Those of us who remember, who dream that gorgeously decaying world as it existed right up to the end of the last century, might sometimes wonder if we were imagining it. The shells remain, but the guts have all gone. Meat on hooks, libertines in leather, sex-shifters, artists, poets, the indescribable stink of it all, that mud-luscious and puddle-wonderful (to crib e.e. cummings) underbelly of the old New York—was it all a collective hallucination? Was it ever real? The bewildering change happened in a blink. Thankfully, Brian Rose was there, in reality, with his camera. In Metamorphosis: Meatpacking District he gives us the stunning evidence to prove that the old world wasn't just a dream.
Jeremiah Moss
Jeremiah's Vanishing New York
What's particularly powerful about the book is its accidental nature, as Rose happened upon the '85 negatives and, surprised, and moved, felt compelled to revisit the sites and document the changes, letting commentary accrue in the spaces among the images.
Joe Bonomo
No Such Thing As Was
Press for Metamorphosis: Meatpacking District

• Jeremiah's Vanishing New York, August 28, 2013
• Curbed, August 28, 2013
• Gothamist, August 28, 2013
• Bowery Boogie, March 24, 2014
• Untapped Cities, March 25, 2014
• Watson, March 20, 2014 (German)
• Societe Perrier, May 16, 2014
• Pro Photo Daily, July 18, 2014
• I Fear Brooklyn, July 28, 2014
• Cool Hunting (Interview), August 5, 2014
• Business Insider, August 6, 2014
• No Such Thing As Was (Interview), August 7, 2014
• CityLab (article and interview), September 29, 2014
• Photo-Eye (review), December 22, 2014


Metamorphosis
Meatpacking District 1985 + 2013
Photographs by Brian Rose
Foreword by Jeremiah Moss

Golden Section Publishers, 2014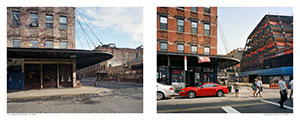 Book Preview
It was the winter of 1985, when Brian Rose decided to explore the Meatpacking District with his 4x5 view camera. Early in the morning before dawn, it was a scene of carnage as men grappled with meat carcasses hanging from hooks under metal awnings along the streets. At night, a different sort of meat market took place as prostitutes prowled the same streets, and leather clad men sought the anonymous doors of sex clubs.
But during the daytime when Rose wandered the streets, the area was utterly abandoned -- a stage set New York -- as if the actors had all gone on break. The desolation is astonishing in light of what has happened in the years since to the Meatpacking District and New York in general.
Rose never printed his Meatpacking images. He went on to other projects, other parts of the world. In 2012 he pulled out the box of negatives and began scanning. The recovered images, made with little artifice, were stunning to see. At the urging of many, he decided to re-photograph the Meatpacking District, repeating many of the 1985 views and making a number of new ones.

The result is Metamorphosis: Meatpacking District 1985 + 2013, a book that tells the story of almost unprecedented urban transformation, from wasteland to epicenter of art and fashion.



Fewer than 100 books available!

Hardbound $50




Signed







Limited Edition $250


Slipcover with 8x10 print,
signed and numbered edition of 100






Shipping in the U.S. $3
Canada and Mexico $8
All others $15