ATLANTIC CITY
He has brought to the White House the values of a failed Atlantic City casino owner turned reality TV star.
David Ignatius
The Washington Post

PAGE 1
PAGE 2
PAGE 3
The bankrupt Trump Taj Mahal in Atlantic City. Closed in October 2016.

The beginning of a new series of photographs. Donald Trump's failed casinos and the devastation connected to those failures. A state and city that sold its soul to criminal interests under the pretense of urban revitalization. A Disney theme park with street crime, the money laundering schemes of billionaires, and those abandoned to homelessness and unemployment.


The closure of the sprawling Boardwalk casino, with its soaring domes, minarets and towers built to mimic the famed Indian historic site, cost nearly 3,000 workers their jobs, bringing the total jobs lost by Atlantic City casino closings to 11,000 since 2014. Atlantic City now has seven casinos.

AP - The Big Story



Now, 26 years later, I look back and reflect on my personal journey and Trump's promise of greatness. I see now that the opulence and glamour were all just bait. His rhetoric was supported by majestic surroundings, but they were financed through junk bonds. The profits that Donald Trump enjoyed were not reinvested in the building or the employees. They were shipped back up to the shore to Wall Street. That casino money flowed right out of Atlantic City and into the coffers of the billionaire hedge fund owners.

Refinery 29



It was Monday around noon, almost 60 degrees at the end of November, and a scattering of people strolled the boardwalk. As I stepped down to the beach across from the Trump Taj Mahal I encountered a half dozen stray cats lounging about as if they owned the place. And in a sense they did.

The Boardwalk Cats Project feeds and tends the 150 or so spayed and neutered cats. Atlantic City may be bankrupt along with many of its casinos, but the cats are doing fine.


A wall with a discreet no trespassing sign blocks passage to a stairway into the now abandoned Trump realm.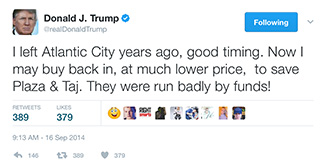 On the north end of the Boardwalk just beyond the abandoned Trump Taj Mahal, Governor Chris Christie's tax payer supported mega project.
Two years later, the Revel is shuttered — wiping out thousands of jobs amid an economic implosion of the gambling industry here. Rather than serve as a shining example of Christie's economic stewardship, Revel now stands as a 57-story example of failure in a city that has bedeviled New Jersey governors for decades.

The Washington Post




There is a party, everyone is there.
Everyone will leave at exactly the same time.
Its hard to imagine that nothing at all
Could be so exciting, and so much fun.
Heaven is a place where nothing ever happens.
Heaven is a place where nothing ever happens.
— Talking Heads



Parking garage and drifting sand. There are degrees of sadness in things, but there is something especially poignant about an empty 57 story casino hotel with a vast unused parking garage. The garage was designed to inject gamblers directly into the maw of the casino without ever having to interract with the surrounding city.
At the far end of the boardwalk, past a line of squat, peeling buildings, there's no missing it. The tall glass tower of Revel, Atlantic City's latest hotel-casino, reflects the sky and sea, and a steady stream of cars turn off Pacific Avenue to enter the parking garage. That 7,739-car garage* is larger than the sum of all parking garages in the city of Philadelphia, but that's just one clue of what's to come inside of the mega-resort.
--
Huffington Post


Home of James'
Only original
Cut-to-fit-the-mouth
Salt water taffy
It was in Atlantic City that taffy added saltwater to its name—though not actually to its recipe. The probably apocryphal origin story of the city's famous saltwater taffy involves a particularly high tide flooding a taffy shop, covering the product with foam. Finding the taffy tasted fine but fearing public distrust of his moistened inventory, the merchant purportedly advertised it as "saltwater taffy" in a stroke of marketing genius.
--
Slate


I made my second trip to Atlantic City. It was a grey, damp, December day — chilly, but not too bad. The project is beginning to take shape. I will focus, to start, on the Trump Taj Mahal and Trump Plaza, two recently bankrupted casinos that have sent this already depressed city reeling, and then gradually expand out from the Boardwalk. Is Atlantic City a metaphor for what is happening to the country as a whole?

Way back in 1981, Louis Malle said that his film "Atlantic City could be a metaphor for things going wrong all over America." And recently the New Republic opined that "The closure of Trump Taj Mahal casino is a giant metaphor for Trump's America." So, I think we are on solid, if not original, footing here.


Driving down on the Garden State Parkway I pulled into a rest stop for coffee, and as I was leaving I noticed Governor Chris Christie's beaming face lurking behind a couple of coin operated games. Politico called Christie and Trump "the twin villains of Atlantic city," and I am in constant amazement that these two buffoons have come to exercise such power.

Fortunately, it appears that Christie's path to national acclaim has fallen victim to a traffic jam in Fort Lee, an act of political vengeance stunning for its clownish and petty nature. Ah well.
"Trump and Christie have one thing in common regarding Atlantic City," says Frank Becktel, a jitney driver and an Atlantic City loyalist suffering along with the rest of the town in its hour of
need. "They both knew how to squeeze a buck out of us and leave us for dead."

-- Politico


In 1984 Donald Trump opened the Trump Plaza, at the time the largest casino in Atlantic City. The project was done in a partnership with Harrah's, an experienced casino operator, and involved a great deal of debt, which Trump was forced to refinance several times.
"Early on, I took a lot of money out of the casinos with the financings and the things we do," he said in a recent interview. "Atlantic City was a very good cash cow for me for a long time."

-- The New York Times
When Trump Plaza closed two years ago, over a thousand people were laid off. The buildings languished, and the embarrassment of having the Trump name in bold red letters all over exteriors prompted a lawsuit.
Last year, he sued to force the shuttered Trump Plaza to remove every reference to his name, a final pronouncement on his view of Atlantic City. The letters were removed, some carted off in a contractor's pickup truck.

-- Politico


Just in front of the Trump Plaza is a tribute to the Miss America pageant, which began in Atlantic City in 1921, and has been held, frequently, in the nearby Convention Center, now called Boardwalk Hall. Donald Trump never got his hands on Miss America, literally or figuratively — he was the owner of the Miss Universe and USA pageants for over a decade.
Miss America would have been far too cerebral. When he took over Miss Universe pageant Trump said,
"They had a person that was extremely proud that a number of the women had become doctors, and I wasn't interested."


--
CNN
from the Howard Stern Show