ATLANTIC CITY
Donald Trump
He has brought to the White House the values of a failed Atlantic City casino owner turned reality TV star.
David Ignatius
The Washington Post
PAGE 1
PAGE 2
PAGE 3


BRIANROSE.COM
© Brian Rose
Trump's wall in Atlantic City.
(Reuben) Kramer shows us the shuttered Trump Plaza, which will likely be torn down. It is one of four casinos that closed in 2014, representing a third of Atlantic City's gaming halls. Trump's name has been removed from the Trump Plaza facade. Only the gaudy golden crest, a color reminiscent of Trump's famous hair, remains.


I'll tell you, it's big business. If there is one word to describe Atlantic City, it's big business. Or two words – big business.

During Prohibition, Atlantic City created the idea of the speakeasy, which turned into nightclubs and that extraordinary political complexity and corruption coming out of New Jersey at the time. The long hand that they had-and maybe still do-even had to do with presidential elections.

When asked about Atlantic City, Trump says the iconic resort town is "a disaster" that collapsed just before his timely exit, which is surely true. In the town on which the Monopoly game was based, riches did not trickle down. Many inhabitants are not passing Go: 39,000 people live in a city where unemployment is 13.8 percent, the 10th highest in the nation, and the mortgage foreclosure rate is America's highest.

Trump has been vigorously spinning his companies' bankruptcies as evidence of his business acumen. "I had the good sense, and I've gotten a lot of credit in the financial pages—seven years ago, I left Atlantic City before it totally cratered," he boasted in the first GOP primary debate. "And I made a lot of money in Atlantic City, and I'm very proud of it."
--
Newsweek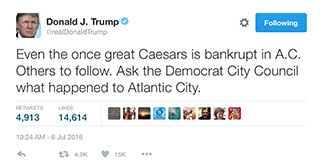 (Republican mayor) Guardian said: "If we go bankrupt, it's because the governor will drive us into bankruptcy. It will not be an Atlantic City bankruptcy, it will be a (Republican governor) Christie bankruptcy."

— Philly.com


I walked out on the beach opposite Ceasar's and Playground Pier (originally the Million Dollar Pier), and took several pictures of the huge wall of signs attached to the troubled mall. A new investor recently bought the highly leveraged pier for $2.5 million and hopes to attract a younger crowd of shoppers.
At my feet in the sand I picked up a cigarette carton with Russian lettering on it. I thought reflexively, The Russians are coming! But the Russians are already here.
Russian pop diva and Eurovision stalwart Philipp Kirkorov has revealed that he is a supporter of Donald Trump. In an interview with BBC News, the "You Are the Only One" songwriter spoke of his long friendship with the American presidential candidate, and his hope for closer relations between Russia and the United States.
Kirkorov, who represented Russia at Eurovision in 1995, first met Trump in 1994 when Kirkorov and his now ex-wife and Russia's 1997 Eurovision singer Alla Pugacheva performed at the Trump Taj Mahal casino in Atlantic City.

-- wiwibloggs.com


The pier extends well into the surf, and on this damp and gloomy day, the waves crashed and swelled around the supporting columns.
Benjamin Strauss, a sea level expert at Climate Central, an organization of scientists, says that people in Atlantic City are uniquely vulnerable to rising seas because they inhabit a barrier island with extremely low and flat terrain.
In January of 2016, after a winter storm flooded parts of the Jersey coastline, New Jersey Governor Chris Christie, then a candidate for president, sarcastically asked whether he should "pick up a mop" to help with flooding—a remark that was criticized by environmentalists for being out of touch with the gravity of the situation. Christie accepts that human activity contributes to climate change, but contends that the issue "is not a crisis."

-- National Geographic


When people show you who they are, believe them. Donald Trump made a bad gamble in my community, devastating thousands of American citizens. In his own mind, of course, he was a success. In May, Trump told the New York Times about his 25 years in Atlantic City: "The money I took out of there was incredible."
It's the only thing he has to say of my now-destroyed home town. He came, he took and he left. And I hate to break it to you, America — he's not coming back for us.

Location of the former Traymore Hotel, one of the jewels of Atlantic City's heydey as middle class beach resort. Demolished in 1972, still an empty lot. The Claridge, at center, a reminder of that earlier era, contrasts sharply with the Bally's hotel and casino building to the left.





Now baby everything dies baby that's a fact
But maybe everything that dies someday comes back
Put your makeup on, fix your hair up pretty
And meet me tonight in Atlantic City
— Atlantic City, by Bruce Springsteen







The legacy of Trump is an asset to the city. I would not be opposed to turning this project into a research facility and allow people to access them," Blaskiewicz said. "His story in Atlantic City could tell us what he is going to do in the future.

Trump Plaza and the three other casinos he once owned are now shuttered, but his presence hovers over everything here in Atlantic City. To such an extent, that one group wants to build a Trump museum.
As an example of the possible impact of a museum, Fox pointed to Sevnica, Slovenia, the birthplace of first-lady-to-be Melania Trump. Since the election, people have been flocking to the town to get a glimpse of where she grew up.
"This is something that could drive people to the city," Fox said. "You look at what is happening in Melania's hometown, and why couldn't that happen here?"